NHGRS Layouts and Train Shows
In a typical year, the New Hampshire Garden Railway Society participates in about half a dozen train shows and events, displaying one or more of our portable G scale layouts and promoting the hobby of large scale model railroading.  In 2015, these included:
The Amherst Railway Society's huge Railroad Hobby Show at the Eastern States Exposition grounds in West Springfield, Mass. in January
The East Coast Large Scale Train Show in York, Pennsylvania in March
The Hooksett Lions Club Model Railroad Show in Hooksett, NH in April
The Pepperell Siding Model Railroad Club show in Pepperell, Mass. in October
See our Events Calendar for upcoming shows.
For many years, NHGRS hosted an annual show in Milford, New Hampshire in partnership with the Milford Lions Club.  This show has been on hiatus for the last couple years, and we are currently in search of new venues for our shows.  If you are interested in partnering with the NHGRS to host a train show in your community, please contact us.
NHGRS Layouts
Big Green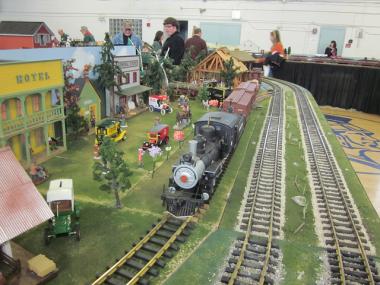 Our flagship layout, "Big Green" is a double-track modular layout featuring modules built by individual club members.  A full setup of Big Green was always the highlight of the Milford show, displayed in the school gymnasium.  Big Green also makes an annual trek to York, Pennsylvania in the spring for the East Coast Large Scale Train Show.  Smaller setups using fewer modules have also been displayed at other shows, including the Springfield show since 2015.  Trains run on Big Green are either electric or battery powered.
Little Green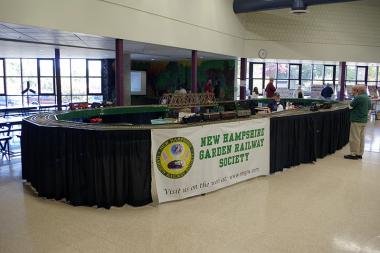 NHGRS' oldest layout, "Little Green" is usually used these days by the club's live steam group, the "Real Train Division".  These trains are pulled by fully-functional miniature steam locomotives that operate much like their full-sized counterparts, except that they are fired by clean-burning butane gas instead of coal, allowing them to be run safely indoors.  Little Green's tracks can also be powered for electric operation.
Mini Green
"Mini Green" is a tabletop layout designed to fit into smaller spaces.
Evergreen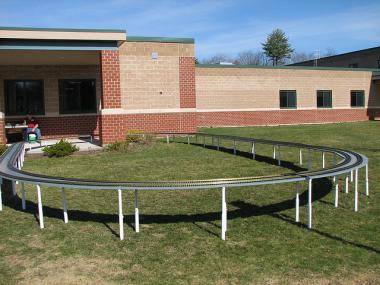 "Evergreen" is a low-profile portable layout with adjustable legs, designed to be set up outdoors.  Evergreen has been used for both live steam and electric trains.
"The Stage"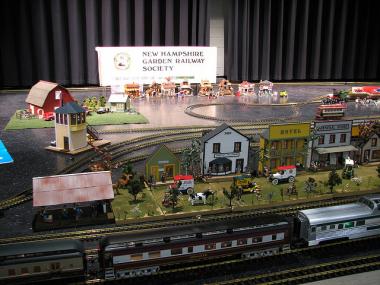 A free-form layout of track, bridges, and buildings laid directly on the floor, typically set up on the stage at the Hooksett show.